Betting on Solar Power
The solar industry has recently been making headlines all over the world for one big reason: in less than 10 years from now solar power is likely to be the lowest-cost energy option globally. In fact, in some areas across the globe solar power is already cheaper than coal.
The affordability of solar energy also impacts large utility companies who are now investing more into adding solar and wind energies to their respective power grids. For example, Xcel Energy, which provides electricity to the middle to the middle of the U.S. (namely Colorado to Texas to Michigan), has begun the shift towards investing in renewable energy sources. Xcel Energy has recently asked for proposals to build wind and solar power plants in Colorado, and the bids for the power plants have come in considerably lower than the operating costs for coal power plants. Another utility company called Pacific Gas & Electric, which is located on the West Coast, has committed to investing in solar energy, and has announced that 55% of its power portfolio by 2031 will consist of renewable energy sources.
Solar energy is becoming more and more economically feasible as an energy source. The trends that we have seen in 2018 and recent years have shown great interest and investment to promote solar energy as the energy of the future.
Expanding Solar to Every Home
Currently there are about 2 million U.S. homes that have solar panels installed. That might seem like a small number since there are around 90 million single-family homes in the U.S. However, the trends in the solar power industry are showing one million new solar powered systems being installed each year. That is a huge leap from where the solar industry was a decade ago. Ten years ago, solar panels were 60% more expensive than what they cost today! Therefore, the rise in demand for solar panels is with good reason, they are becoming cheaper to purchase, and they help the U.S. become more environmentally conscious. In fact, the state of California recently passed a requirement that new homes must include solar panels. This legislature will aid California in reaching their goal of having 50% of their energy use from renewable energy sources by 2025.
Sunrun, the U.S.'s largest residential solar installation company has also been noticing a growth of solar panels in midwestern states, such as Wisconsin and Illinois. This is a change in the solar market because the Midwest region has been previously known not to embrace solar power. However, in 2017 and 2018 the Midwest has been one of the leading solar installation regions in the U.S.!  Other solar companies such as Vivint, have noticed a growth in solar customers from New England, Maryland, New Hampshire, Vermont, and the Carolinas. These states are seeing record solar panel installations in 2018, and the numbers are looking equally as favorable for 2019.
MIT Study on Solar Energy
In 2015, MIT published a 365-page study on the future of solar energy.  According to the study, solar electricity generation is one of the best renewable energy sources that can grow to a very large scale. MIT's study forecasts the development of solar technologies up to the year 2050 because that is the longest they could foresee into the future (based on current market trends and technologies).  MIT's research shows the possibility of solar energy, and that it is able to produce multi-terawatts of power. This is a huge jump in efficiency when compared to how today's solar farms only have a 550-megawatt capacity.
The study finishes by notating how solar energy prices and the recent rise in demand for solar energy are definite confirmations of the potential of solar energy. The solar industry is becoming more and more efficient, and the advancements in solar power technologies are not going to slow down.
Obstacles to Solar Energy's Future
Even though solar power is cheaper than ever before and becoming more popular, there are still a few setbacks to solar energy being the energy of the future. For one, the permit and inspection regimes are very disjointed. That means that various jurisdictions and local governments have diverse versions of the building code, and they cannot come to the same conclusion on how to interpret it. This turns into a difficult and burdensome job for the solar panel installation company. For example, a solar company could sell panels to a homeowner who is looking forward to having solar power. But the permitting process could take up to three months, and then the homeowner may call and cancel due to the frustration of waiting so long.
Another unknown to the future of solar is how it will integrate with smart energy management systems in the home. The management systems will regulate the solar battery and the solar panels by using different sensors. The tricky part is to have the system know how to make the home environment comfortable and to also conserve energy. The system will have to know the right temperature the home should be set at, how to change the temperature based on utility rates, and the time of day to save money on energy use. The technology to accomplish this is very much still in the works.
New Technological Breakthroughs
Even with the obstacles to having solar energy become the future of energy use, there are new technologies within the solar industry that are fortifying the possibility for solar to be the future. Sunflare, a California based startup, has launched a new concept for the solar industry; lightweight solar panels. They have the same metallic blue outside as conventional solar panels, but the similarities end there. The panels are thin, flexible, and of course, lightweight. They are made with a stainless-steel substrate with copper, indium, gallium, and selenide. These metals create a semiconductor that's only a few micro­meters thick. The Sunflare panels come in standard and custom sizes for your home. They also can stick almost anywhere (a special adhesive is used during installation), and since they are flexible, they can follow the contours of your home without needing to be installed flat.
Sunflare panels also have other advancements over conventional solar panels. If a tree branch shades a Sunflare panel, the panel has more diodes to help bypass the shaded area. Traditional solar panels would shut off the panel if it was shaded. Also, the lightweight panels can be utilized in off-grid homes such as trailer homes and RVs. The peel and stick method of the Sunflare panels is also very attractive to business owners who do not like having to puncture their roofs to install the racking for traditional solar panels.
Sunflare is currently 50-75% more expensive than traditional solar panels because the company is still a startup. However, Sunflare is gaining more national attention and seeing a slow rise in sales. In due time this new technology could much more affordable and will allow solar energy to be installed in even more places. The future of solar energy is possible because of innovations such as these lightweight solar panels.
Another new technology that will solidify solar energy as the future are solar windows. Solar windows are still not on the market, but they are a very real possibility for the future of solar. A solar window is a transparent glass window that uses sunlight to generate electricity, which is exactly the same concept as a solar panel. U.S. companies, and companies across the globe, have created solar windows that are conceptual, work well, and show much promise for this new technology.
In 2017, SolarWindow Technologies publicized a new partnership with Triview Glass Industries to make SolarWindow™ products that can produce electricity. This invention is all due to the innovation within the SolarWindow Technologies and that is a liquid transparent coating that make the glass act as a photovoltaic device. The partnership is finalizing plans to have these windows built on skyscrapers to eventually work as vertical solar power generators. Not only would this technology bring solar panels to more places, but it would also solve economic issues that traditional energy sources are not able to address. Buildings consume 40% of electricity in the U.S. and SolarWindow coatings would be able to cut the annual $150 billion dollars in electricity costs in half.
Another invention that was announced in 2017 was the development of solar paint by Australia's Royal Melbourne Institute of Technology (RMIT). The team devised a paint that is made with titanium oxide, which is found in sunscreen, and synthetic molybdenum-sulphide, a compound that absorbs moisture in the air. The chemical combination of these two utilize both sunlight and moisture to convert water into hydrogen fuel, as well as oxygen. Hydrogen energy has previously relied on unclean processes such as the burning of fossil fuels. RMIT's paint validates that hydrogen can be utilized as a clean energy source when hydrogen is produced with renewables.
Solar Paves a Bright Future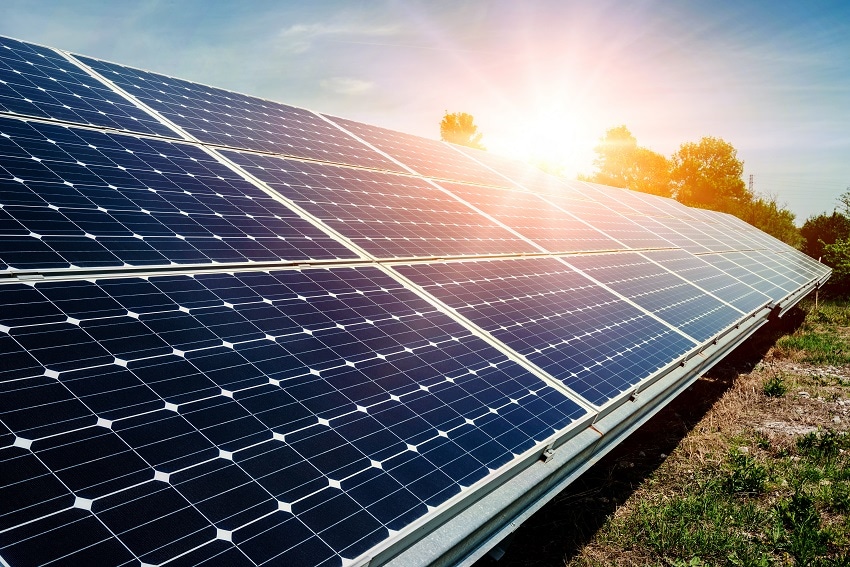 The solar industry became the fastest growing source of energy in the U.S. in 2016, and it has not looked back since. This energy source is also the biggest employer of all energy sectors, with around 370,000 employees. When compared to the 187,000 employed in all fossil fuels combined, this shows that clean energy should be promoted as a healthy and economically ideal energy source. Also, the price of solar fell 165 percent from 1975 to 2015, which shows a tremendous amount of growth in only 20 years!
Given the harsh realities of the climate crisis, the dwindling supplies of finite fossil fuels, and the uncertainty of what the electrical grid will look like in the next 50 years, the time for solar energy investment is now. Solar energy is quickly becoming cheaper and more innovative for our daily needs. Solar energy is not just a power source for today's society, but the answer for the future of energy.
Sources:
"Bright Future of Solar Power". Green America, 2018. https://www.greenamerica.org/new-green-tech-promise-and-pitfalls/bright-future-solar-power
"Solar Energy Home of the Future." The Verge, 2018. https://www.theverge.com/2018/8/13/17670978/solar-energy-home-of-the-future-grant-imahara-panel-green-renewable
"The Future of Solar Energy." Clean EnergyAuthority, 2017. https://www.cleanenergyauthority.com/blog/the-future-of-solar-energy-01232017